All Text, Graphics, Animations, Video, and Commentary on this website was created by, and is the intellectual property of m4040@m4040.com. All Rights Reserved. Unauthorized reproduction is punishable by up to a $500,000 fine or 5 years imprisonment for a first offense, and up to a $1,000,000 fine or up to 10 years imprisonment for subsequent offenses under the Digital Millenium Copyright Act (DMCA). Requests for use of this material should be forwarded to m4040@m4040.com.
---
Custom High-Rider Kydex Sheath for a Reeve Project II
Another M40 Basement Project
---
Many of us have been in that situation where we want to carry a decent sized blade, but the situation or location doesn't permit it or where the sight of it may scare folks. Hiking in state parks is a perfect example. While some state parks are large enough that you may not see another human during your travels, others are smaller or see a lot of traffic. Wearing a large knife on your hip tends to make some folks edgy (no pun intended).
For this project, I set out to make a custom "high-ride" kydex sheath. The blade I chose for this project is a Chris Reeve Project II that I plan to review in the near future. I got the inspiration for this project from some of the "high-ride" handgun holsters that place the firearm upwards from the belt line such that an untucked tee shirt will easily hide it from sight.
---
First, I needed to mold a sheet of kydex over the blade. I heated it to about 200F for a few minutes, then put a pillow on top and stood on it.
Here's the result:

...and from the back

I then cut out my planned shape, both from the molded piece, and from a flat piece. Trust me, there's a reason for the shape which will become clear.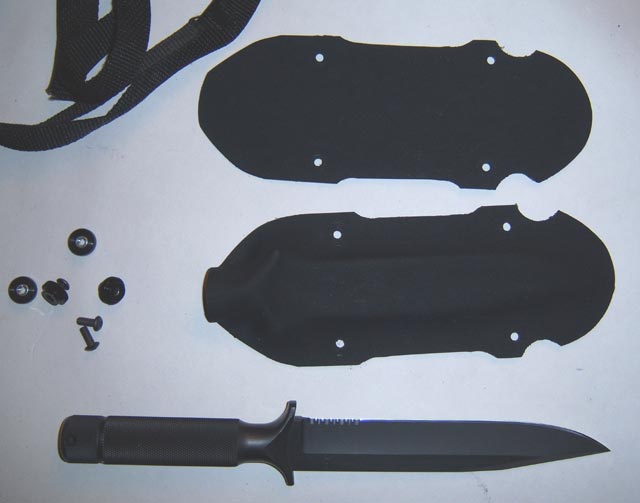 Also in the picture above is some thumbscrews and strapping that will hold the halves together. Part of this design plan is to have a sheath that can be taken apart for cleaning or maintenance if needed.
Here it is assembled for fitting:

Now part of the reason for the shape becomes clear... a para cord wrap.

Now that we have the wrap, I have a custom pouch I made from heavy strapping which will hold a basic survival kit.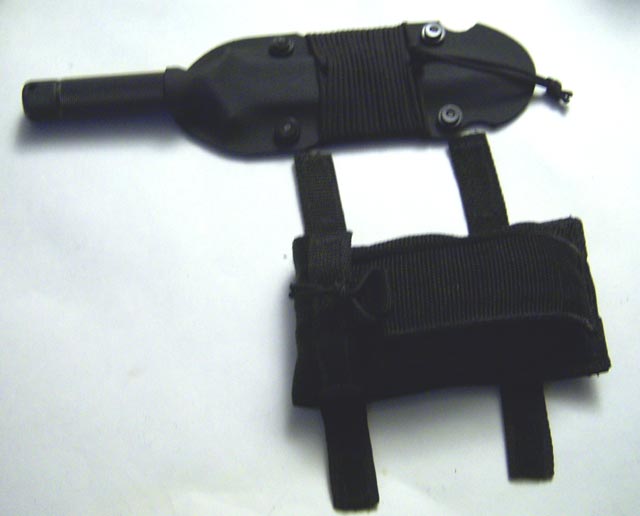 This will velcro in place when needed, but is easily removed and worn alone on the belt.

As you can see in this picture, the screws serve double duty, and hold both the sheath halves and the belt loops in place. If you look at the location of the belt loops, you'll notice that they sit pretty low... about where they would be if the pouch needed to be at belt level.

Here's the completed assembly ready to try out.
First, just worn normally, and yes, it rides high... but not uncomfortably so. In fact, it makes it easy to sit down which is an issue with a lot of large sheaths.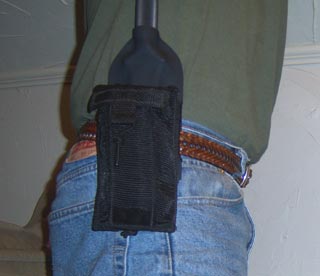 Next, I'll untuck the tee shirt and flip it over the handle...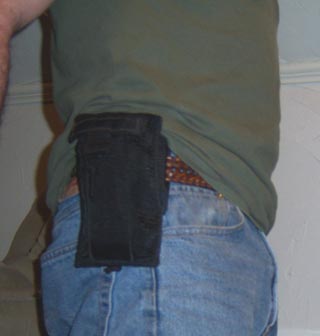 Excellent... to all outwards appearances, I'm wearing a camera pouch on my belt. Nothing that will freak out my fellow hikers. The sheath is stiff enough and the belt loops tight enough that the blade stays snugly along my side, but not uncomfortably so.
Mission accomplished!
-M40-
---
Return to M40's Ghurka Modification Page